Towing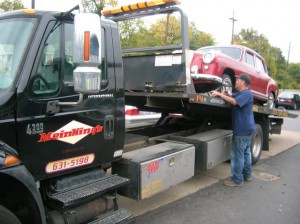 Meinking's Service has a fleet of specially equipped tow trucks and light road service trucks on call 24 hours a day. Professionally trained drivers that have been drug tested and background checked operate 365 days a year. We have a dedicated phone line for our customers to call 24 hours a day for just their towing or road service needs. Our drivers are available for private, motor clubs, insurance company, and police rotation calls.
Meinking's Service has contracts with all major auto clubs and insurance companies as well as the Norwood and Amberly Village Police Departments.
Along with the numerous awards we have won, AAA Auto Club recently named us a "Station of the Year" for the Cincinnati Region. In addition, we have been awarded the Quest Towing Services "Best Call Acceptance" for the East Region, Geico's "Outstanding Customer Service Award" for emergency road service and, most recently, American Towman magazine's "Customer Service Excellence Award"
We hope that you are never involved in an auto accident, but if you ever are, know that Meinking Service can immediately send a tow truck to your location. The 24 hour emergency dispatch number is 513-631-5198 or just tell the responding police officer to "call Meinking's".