Our Team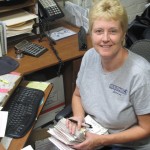 Judy Meinking – Accounts Receivable
Judy is the "go to" gal for all billing, invoicing and insurance within Meinking's Service. Judy began her career with Blue Cross and Blue Shield of Ohio as an accountant and joined her husband, Mark, over 30 years ago when he started the business.
Mike – Collision Repair Specialist
As Meinkings' Collision Repair Specialist, Mike takes pride in making sure our customers understand the entire repair process and assists them with their insurance claims. He has worked in the collision industry for the majority of his professional career and has been with Meinking's for over 25 years. Our customers return because they know our best interest is with them and their vehicles.  Meinking's Service goes the extra mile to make sure they are happy.
Kenny – Master Technician
Another long term employee – over 20 years – Kenny has "been there, done that". There is likely no challenge in automotive repair and mechanics that he hasn't faced and conquered! And with the addition of online resources and continuing education, Kenny is committed to staying up to date in order to offer our customers the best in auto care.